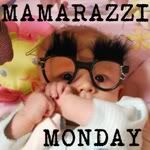 One of the many blogs I frequent hosts this so that us Mommys who take a bazillion pictures of our sweet babies know that we are not alone when our husbands call us crazy. Here's my Mamarazzi Monday!
11:15am. No nap since waking up at 6:30am. Boycotting.
11:17am. Still awake. Pick me up mommy?
11:20am. Fighting the sleep. Play with me Mommy!
11:30am. Fine, I can play with these.
It is now 11:54am and after walking the "sleep path" for 20 minutes, I finally have a sleeping baby. In his own crib. I only walked away with one injury, a hickey on my left bicep.
I can pull through, have faith...